Introduction:
Dubai Marina is a man-made waterfront development that has transformed the city's skyline with its stunning architecture and scenic views. The 50-million-square-foot project features a large canal that runs through the heart of the community, lined with high-rise buildings, luxury yachts, and bustling promenades. This popular tourist and residential destination offers an exciting mix of entertainment, dining, shopping, and leisure activities that cater to all ages and interests.
In this guide, we'll take you through a journey of Dubai Marina's top attractions, things to do, dining options, shopping destinations, and practical tips to make the most of your visit. So, let's get started!
Attractions in Dubai Marina:
Dubai Marina Walk – Take a stroll along the vibrant waterfront promenade that spans over 7 kilometers, offering breathtaking views of the marina's skyscrapers, yachts, and the Arabian Gulf. The walkway is lined with numerous cafes, restaurants, and boutiques that cater to all tastes and budgets.
Dubai Marina Mall – This popular shopping destination features over 140 stores, a cinema complex, a food court, and an indoor children's play area. The mall also hosts various events and activities throughout the year, including live music, fashion shows, and art exhibitions.
Jumeirah Beach Residence (JBR) – This beachfront community offers a range of residential apartments, luxury hotels, and serviced apartments. The area is home to several popular attractions, such as the Ain Dubai (Dubai Eye), the world's largest observation wheel, and The Beach at JBR, a popular open-air shopping and entertainment destination.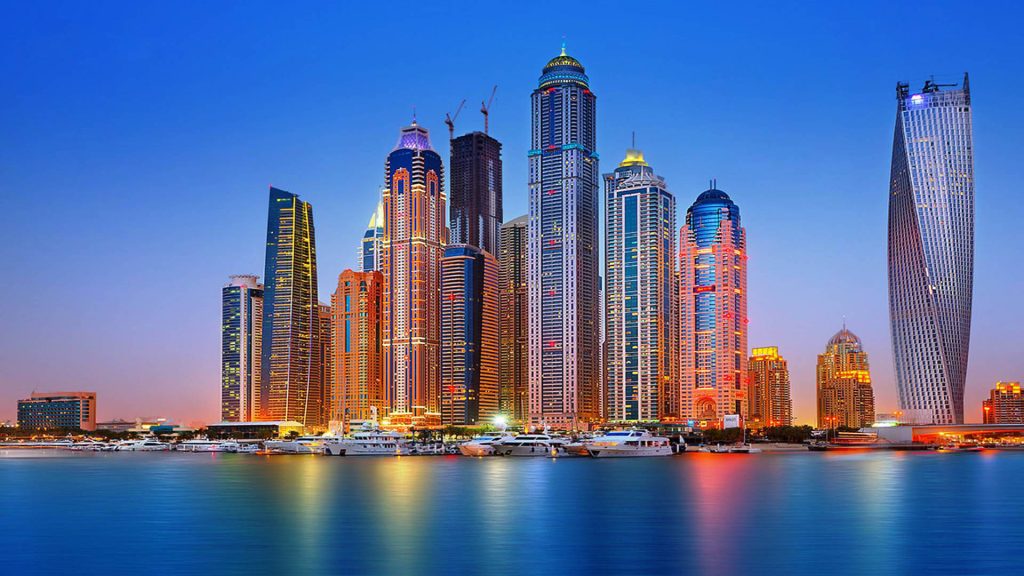 Things to do in Dubai Marina:
Yacht Cruise – Experience the ultimate luxury lifestyle by booking a private yacht cruise around Dubai Marina. Enjoy stunning views of the city's skyline, soak up the sun, and indulge in delicious cuisine while sailing on the calm waters.
Skydiving – Get a bird's-eye view of Dubai Marina's iconic landmarks by booking a tandem skydive experience. Jump from 13,000 feet above the city and enjoy a thrilling freefall before landing safely on the beach.
Jet Skiing – Rent a jet ski and explore Dubai Marina's coastline from a different perspective. Speed across the water and admire the impressive skyscrapers and luxurious yachts that dot the marina.
Dining options in Dubai Marina:
Pier 7 – This iconic seven-story tower houses seven different restaurants, each offering a unique dining experience, from Mediterranean to Asian cuisine. The tower's rooftop bar also offers stunning views of the marina's skyline.
The Maine Oyster Bar & Grill – Enjoy a seafood feast at this popular restaurant that offers fresh oysters, lobster, and other seafood dishes, all served in a stylish and elegant setting.
La Carnita – Indulge in some mouth-watering Mexican cuisine at this casual restaurant that offers a range of tacos, burritos, and other flavorful dishes. Don't forget to try their signature cocktails, too.
Shopping destinations in Dubai Marina:
Marina Mall – This upscale shopping destination offers a range of high-end fashion brands, luxury accessories, and gourmet food stores. The mall also hosts several events throughout the year, including fashion shows and cultural festivals.
Dubai Marina Walk – The waterfront promenade is lined with several boutiques and souvenir shops that offer unique gifts and souvenirs, from designer clothes to handmade crafts.
FAQs:
Q. How to get to Dubai Marina
Getting to Dubai Marina is easy and convenient, with several transport options available.
By Metro: The Dubai Metro's red line has two stations in Dubai Marina – DMCC and Damac Properties. Both stations are a short walk away from the marina's attractions and offer easy access to other parts of the city.
By Bus: The Dubai Roads and Transport Authority (RTA) operates several bus routes that pass through Dubai Marina, including routes 8, 84, and F55. The buses are air-conditioned and offer a comfortable and affordable way to explore the city.
By Taxi: Taxis are readily available in Dubai Marina, and they offer a convenient and comfortable way to get around the city. You can hail a taxi on the street or book one through a ride-hailing app like Uber or Careem.
By Car: Dubai Marina has several parking options available, including paid public parking and private parking facilities. However, traffic can be congested during peak hours, so it's best to avoid driving during rush hour.
Conclusion:
Dubai Marina is a must-visit destination for anyone looking to experience the best of Dubai's waterfront living. With its stunning architecture, scenic views, and vibrant lifestyle, the marina offers something for everyone, from shopping and dining to entertainment and leisure activities. Whether you're a resident or a tourist, this guide has everything you need to know to make the most of your visit to Dubai Marina. So, pack your bags, put on your walking shoes, and get ready to explore one of Dubai's most iconic attractions!