Top 5 Beach Hotels in Dubai: Experience Luxury by the Sea
Dubai, known for its opulence and architectural wonders, is also home to some of the world's most stunning beach hotels. These luxurious retreats offer a perfect blend of sun, sand, and unparalleled hospitality. Whether you're seeking a tranquil escape or a vibrant beachfront experience, Dubai has it all. In this article, we will explore the top 5 beach hotels in Dubai, each offering a unique experience that will leave you in awe.
Introduction
Dubai's beach hotels redefine luxury, providing guests with a remarkable experience surrounded by breathtaking views and exceptional service. With a perfect blend of world-class amenities, captivating designs, and proximity to pristine beaches, these hotels ensure an unforgettable stay. Let's dive into the list of the top 5 beach hotels in Dubai.
1. Burj Al Arab Jumeirah: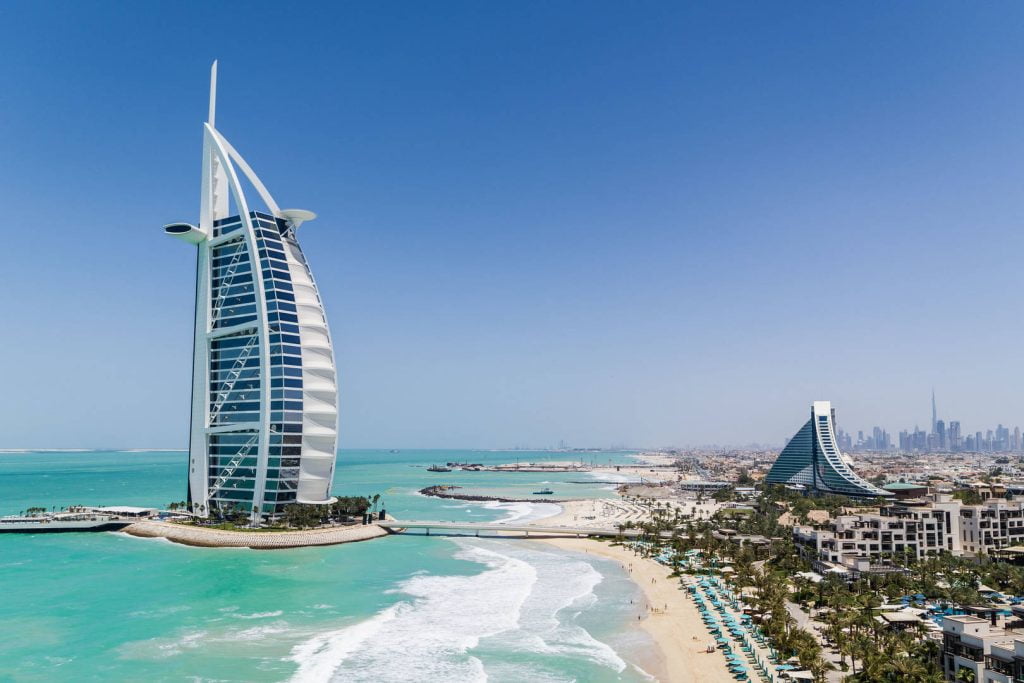 A true icon of Dubai's skyline, Burj Al Arab Jumeirah stands tall as a symbol of luxury and grandeur. Known as the world's most luxurious hotel, it offers an unparalleled experience for discerning travelers. Located on its own island, this sail-shaped masterpiece boasts lavish suites, each adorned with opulent furnishings and breathtaking views of the Arabian Gulf. From gourmet dining at signature restaurants to rejuvenating spa treatments, Burj Al Arab Jumeirah exceeds expectations in every aspect.
Highlights:
Iconic sail-shaped architecture and stunning interiors

Lavish suites with panoramic views of the Arabian Gulf

Exceptional dining experiences at world-class restaurants

Helipad and chauffeur-driven Rolls-Royce service

Extravagant spa and wellness facilities
2. One&Only Royal Mirage: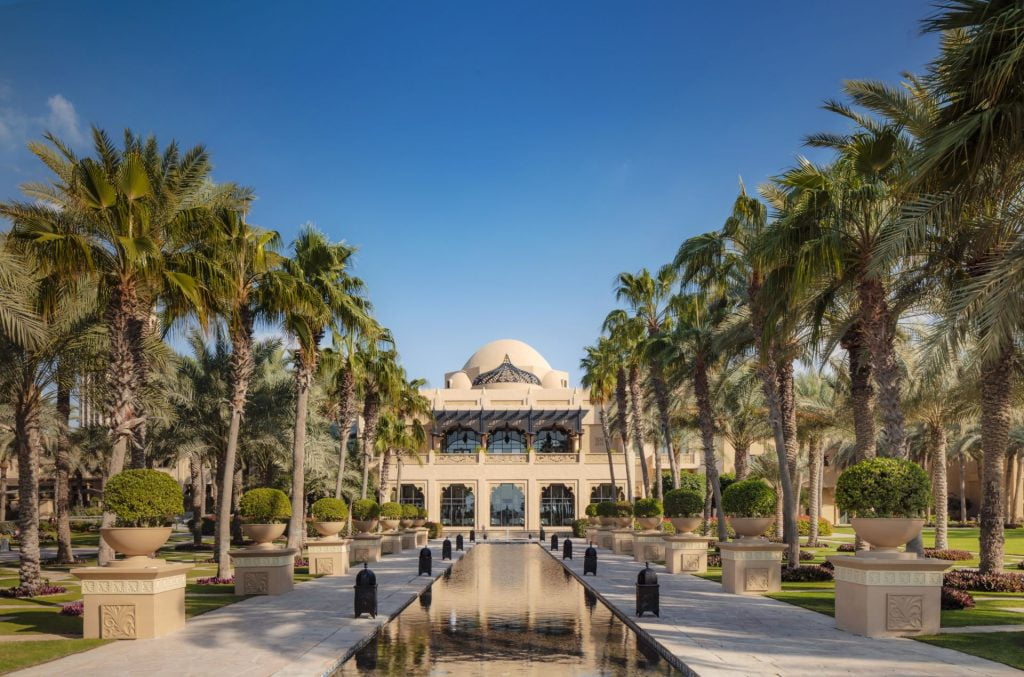 Nestled amidst lush gardens and private beachfront, One&Only Royal Mirage offers a blend of Arabian elegance and contemporary luxury. This expansive resort features three distinct properties: The Palace, Arabian Court, and Residence & Spa. The Palace exudes regal opulence, while the Arabian Court showcases intricate architectural details. The Residence & Spa provides an exclusive sanctuary for those seeking utmost privacy. With a mesmerizing beach, exquisite dining options, and world-class recreational facilities, One&Only Royal Mirage sets the stage for an unforgettable vacation.
Highlights:
Three distinct properties with unique architectural styles

Luxurious rooms and suites overlooking the Arabian Gulf

Private beach and temperature-controlled swimming pools

Gourmet dining at award-winning restaurants

A range of recreational activities, including water sports and golf
3. Jumeirah Beach Hotel: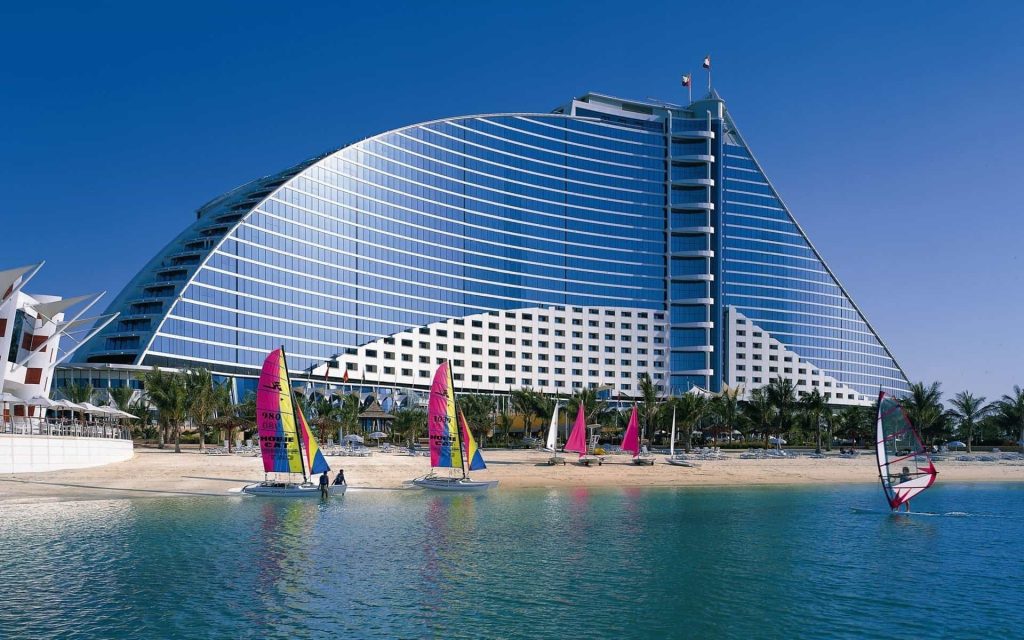 Located along the shores of the pristine Arabian Gulf, Jumeirah Beach Hotel offers a family-friendly retreat with an array of exciting amenities. Its iconic wave-shaped design sets the stage for an unforgettable beachfront experience. The hotel boasts spacious rooms and suites, each featuring panoramic views of the sea. Guests can enjoy direct access to the private beach, indulge in world-class dining, and take advantage of the thrilling water park adjacent to the hotel. Jumeirah Beach Hotel ensures a perfect blend of luxury, leisure, and adventure.
Highlights:
Striking wave-shaped architecture with stunning sea views

Spacious rooms and suites with elegant furnishings

Access to a private beach and expansive swimming pools

Exceptional dining options with diverse culinary experiences

Complimentary access to the Wild Wadi Water Park
4. Atlantis, The Palm: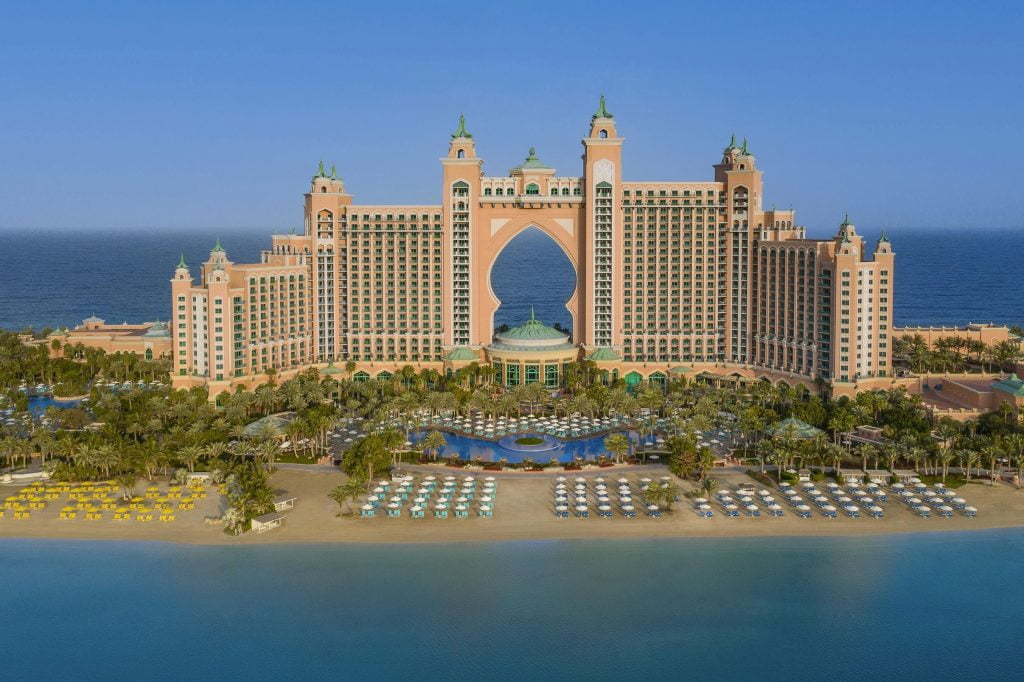 A legendary destination on the Palm Jumeirah, Atlantis, The Palm offers an extraordinary experience filled with adventure, entertainment, and relaxation. This iconic hotel features a marine-themed resort, home to an underwater aquarium, thrilling water slides, and an array of marine animals. From elegantly appointed rooms and suites to award-winning restaurants and an indulgent spa, Atlantis, The Palm captivates guests of all ages with its unmatched charm and unique offerings.
Highlights:
Spectacular marine-themed resort with a vibrant ambiance

Luxurious rooms and suites with stunning ocean or Palm views

Aquaventure Waterpark with thrilling water slides and rides

Access to the Lost Chambers Aquarium and Dolphin Bay

A wide selection of world-class restaurants and nightlife options
5. Anantara The Palm Dubai Resort: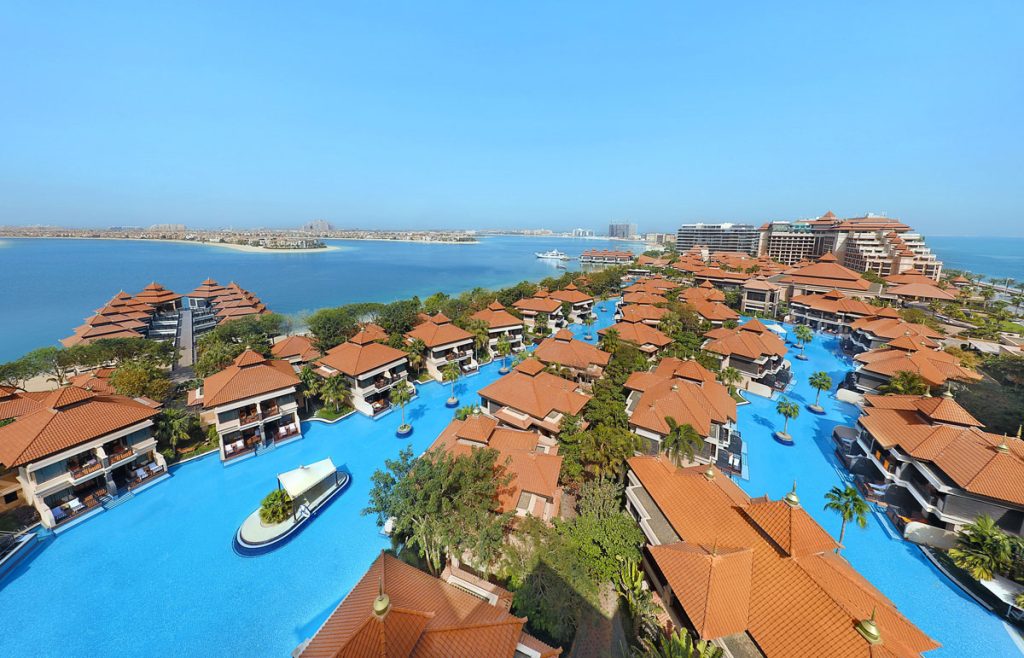 Experience a slice of paradise at Anantara The Palm Dubai Resort. Set amidst beautifully landscaped gardens, this tranquil retreat offers luxurious accommodations and a sense of serenity. Unwind at the award-winning spa, relish exquisite dining experiences, or simply bask in the beauty of private beaches. Anantara The Palm Dubai Resort is the epitome of tropical luxury.
Highlights:
Luxurious villas and suites with stunning ocean views

Private beach access and water sports activities

Exquisite spa offering rejuvenating treatments

Gastronomic delights from renowned international chefs

Personalized service and attention to detail
Conclusion
Dubai's beach hotels offer an unrivaled combination of luxury, beauty, and hospitality. Whether you seek a peaceful retreat or an adventurous getaway, these top 5 beach hotels provide an exceptional experience that will exceed your expectations. From the picturesque Palm Jumeirah to the breathtaking views of the Arabian Gulf, each hotel has its unique charm and attractions. So, indulge in the lavishness, immerse yourself in the beauty of Dubai's beaches, and create unforgettable memories that will last a lifetime.
FAQs
Q.Can I access the beach directly from these beach hotels in Dubai?
A.Yes, all the featured beach hotels provide direct access to the beach, allowing you to enjoy the sand and sea at your convenience.
Q.Do these top 5 beach hotels in Dubai offer family-friendly amenities?
A.Absolutely! Many of these beach hotels in Dubai offer a wide range of family-friendly amenities, including kids' clubs, water parks, and entertainment options suitable for all ages.
Q.Are there any water sports activities available at these beach hotels?
A.Yes, most of these beach hotels offer an array of water sports activities, such as jet skiing, paddleboarding, snorkeling, and more, ensuring an adventurous experience for water enthusiasts.
Q.Are these beach hotels located near popular tourist attractions in Dubai?
A.Yes, these beach hotels are strategically located, providing easy access to popular tourist attractions, shopping malls, and cultural landmarks, allowing you to explore the best of Dubai.
Q.Can I book a beach hotel in Dubai even if I'm not a hotel guest?
A.While access to the beach is usually exclusive to hotel guests, some beach hotels in Dubai offer day passes or allow non-guests to access their beach facilities for a fee. It's recommended to inquire directly with the hotel for their policies.
Q.Do these beach hotels provide airport transportation services?
A.Many beach hotels in Dubai offer airport transportation services, including private transfers or shuttle services. It's advisable to check with the hotel in advance to arrange transportation.
Q.Are there spa facilities available at these beach hotels?
A.Yes, most beach hotels in Dubai feature luxurious spa facilities where guests can indulge in a wide range of treatments, massages, and wellness therapies for ultimate relaxation and rejuvenation.
Q.Do these beach hotels offer activities for children?
A.Absolutely! Beach hotels in Dubai often have dedicated kids' clubs and recreational facilities where children can engage in supervised activities, ensuring they have a memorable and enjoyable stay.
Q.Are these beach hotels suitable for a romantic getaway?
A.Certainly! These beach hotels in Dubai provide a romantic ambiance, offering special packages for couples, private dining options, and serene settings perfect for a romantic escape or honeymoon.
Q.Is it possible to host events or weddings at these beach hotels?
A.Yes, many beach hotels in Dubai have event venues and offer wedding planning services. From intimate beachfront ceremonies to grand ballroom celebrations, they cater to various event requirements.
Q.Are there fitness facilities available at these beach hotels?
A.Absolutely! These beach hotels often have state-of-the-art fitness centers equipped with modern exercise equipment, personal trainers, and fitness classes, allowing guests to maintain their fitness routine while enjoying their stay.
Q.Do these beach hotels have on-site restaurants?
A.Yes, each beach hotel features a selection of on-site restaurants, offering a diverse range of cuisines and dining experiences, ensuring guests can savor delicious meals without leaving the hotel premises.
Q.Are there shopping options near these beach hotels?
A.Dubai is renowned for its extravagant shopping scene, and many beach hotels are located in close proximity to luxury malls and shopping districts, allowing guests to indulge in retail therapy conveniently.
Q.What safety measures are in place at these beach hotels?
A.Beach hotels in Dubai prioritize the safety and well-being of their guests. They implement stringent health and hygiene protocols, including enhanced cleaning procedures, social distancing measures, and staff training to ensure a safe and secure environment for all guests.