Top 5 Dubai Tours: Exploring the Best of the City

Introduction
Dubai, known for its opulence, grandeur, and extraordinary experiences, is a destination that captivates travelers from all around the world. With its rich cultural heritage, modern marvels, and luxurious offerings, Dubai has become a must-visit city for globetrotters seeking unique and unforgettable adventures. In this article, we will delve into the top 5 Dubai tours that showcase the best the city has to offer. From exhilarating Desert Safaris to awe-inspiring Burj Khalifa tours, Dubai has something for everyone.
1. Desert Safari: Experience the Arabian Wilderness
Dubai's Desert Safari is a thrilling adventure that takes you into the heart of the Arabian wilderness. Hop into a 4×4 vehicle and embark on an adrenaline-pumping ride through the golden sand dunes. Feel the excitement as your expert driver navigates the challenging terrain, providing you with an unforgettable off-road experience. After an exhilarating ride, immerse yourself in Bedouin culture with a visit to a traditional desert camp. Enjoy a camel ride, try sandboarding, get a henna tattoo, and savor a delicious barbecue dinner while being entertained by mesmerizing belly dance performances under the starry desert sky.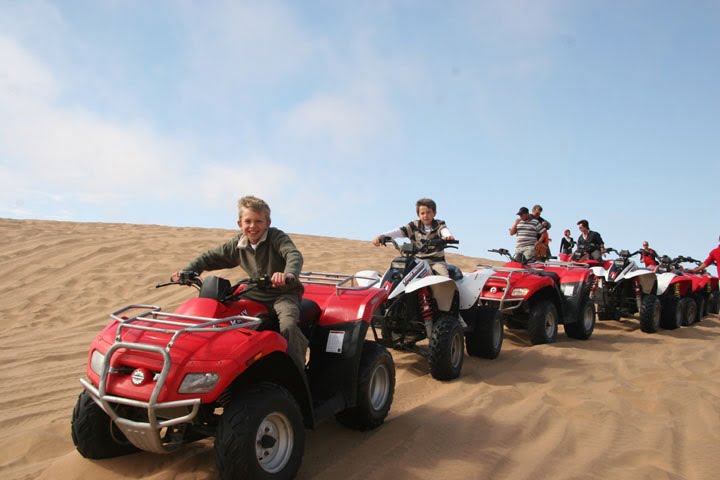 2. Dubai City Tour: Discover the Modern Marvels
On the Dubai City Tour, you'll witness the city's remarkable transformation from a small fishing village to a global metropolis. Marvel at architectural wonders like the iconic Burj Al Arab, a luxury hotel shaped like a sail. Explore the Palm Jumeirah, an artificial archipelago that resembles a palm tree and is home to lavish resorts and residential complexes. Visit the Dubai Mall, the world's largest shopping mall, and be amazed by the stunning Dubai Fountain, a captivating water, and light spectacle. Immerse yourself in the vibrant atmosphere of the historic Dubai Creek, where you can take an abra (traditional boat) ride and explore the bustling souks.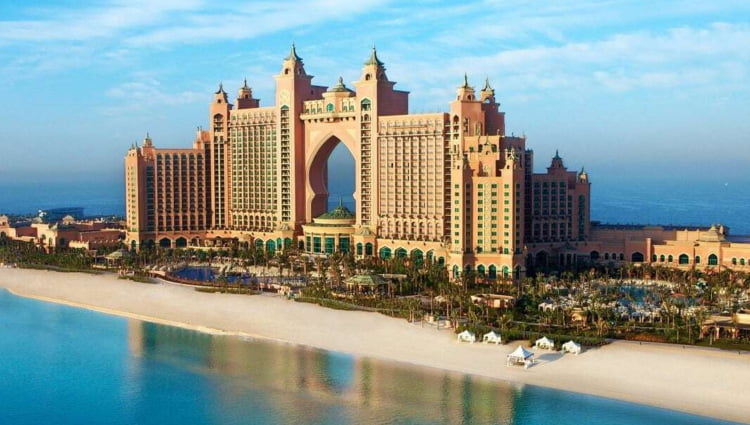 3. Dhow Cruise: Sail Along the Dubai Creek
A Dhow Cruise along Dubai Creek offers a unique perspective of the city. Step aboard a traditional wooden dhow and embark on a leisurely cruise through the historic waterway. Admire the stunning skyline of Dubai as you glide past iconic landmarks. Indulge in a delectable international buffet dinner, accompanied by live entertainment that showcases the rich traditions of the region. As you sail under the illuminated bridges, the city comes alive with magical lights, creating a truly enchanting ambiance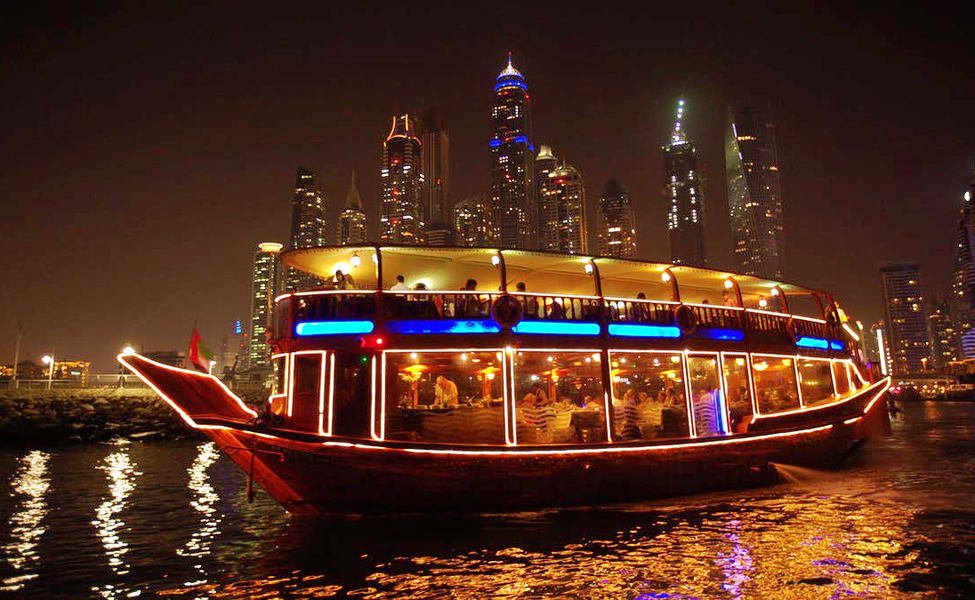 4. Private Yacht Charter: Luxury on the Arabian Sea
For those seeking an exclusive and luxurious experience, a private yacht charter in Dubai is a perfect choice. Set sail on the pristine Arabian Sea aboard a private yacht, and enjoy the ultimate in comfort and privacy. Bask in the warm sun, take a refreshing dip in the crystal-clear waters, and admire the stunning coastal views. Whether you're celebrating a special occasion or simply indulging in a lavish retreat, a private yacht charter promises an unforgettable experience in the lap of luxury.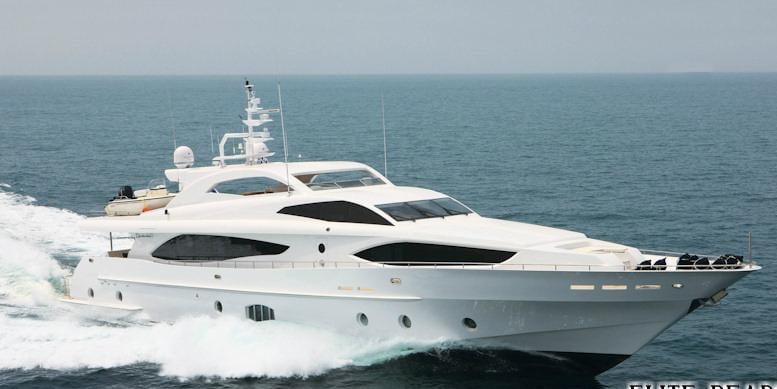 5. Burj Khalifa Tours: Touch the Sky
No visit to Dubai is complete without a visit to the iconic Burj Khalifa, the tallest building in the world. Ascend to the observation deck on the 148th floor and marvel at the panoramic views of the city below. Experience the thrill of the world's fastest elevator, which whisks you to the top in a matter of seconds. Take stunning photographs against the backdrop of the Dubai skyline and gain a new perspective on the city's architectural marvels.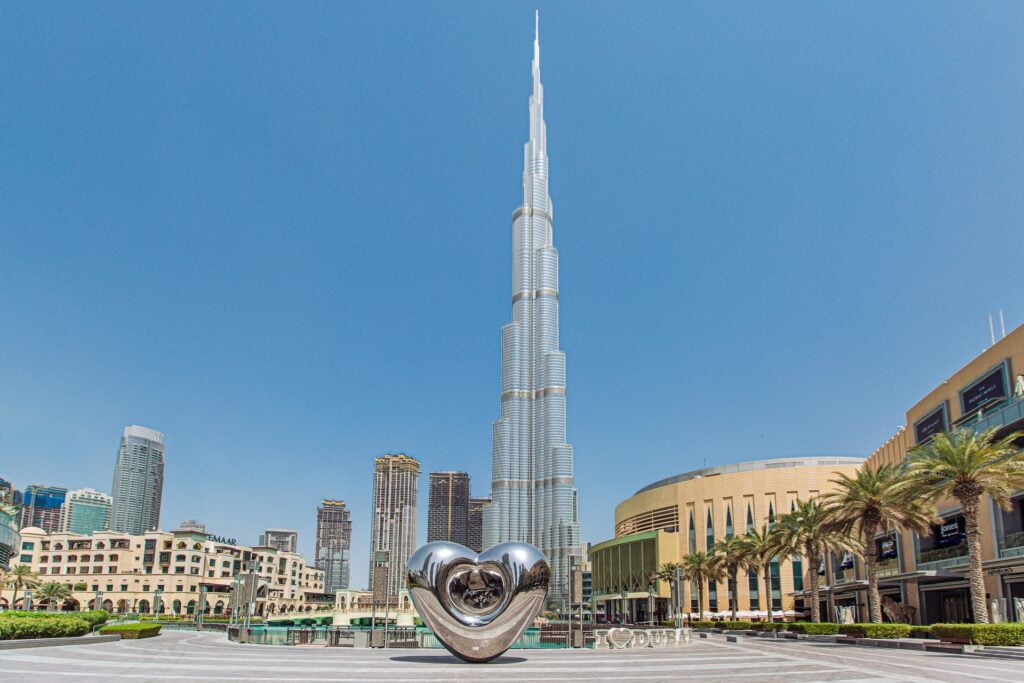 Frequently Asked Questions (FAQs)

Q1: How can I book the top 5 Dubai tours?
To book the top 5 Dubai tours, you can visit Top 10 Dubai Tours websites or contact local travel agencies in Dubai. They will provide you with various package options and assist you in planning your itinerary according to your preferences.
Q2: Are these Dubai tours suitable for families?
Yes, these Dubai tours are suitable for families. They offer a range of activities and experiences that cater to different age groups. From thrilling dune bashing to cultural performances and sightseeing, there is something for everyone to enjoy.
Q3: What should I wear during the Desert Safari?
During the Desert Safari, it is recommended to wear comfortable and loose-fitting clothing. Opt for lightweight fabrics that allow you to move freely. As the desert can get chilly at night, it's advisable to carry a light jacket or sweater.
Q4: Can I customize my private yacht charter experience?
Yes, most private yacht charter services in Dubai offer customizable options. You can tailor your experience by choosing the duration of the charter, preferred cruising route, onboard amenities, and additional services such as catering and water sports activities.
Q5: Is it necessary to book tickets in advance for the Burj Khalifa tours?
It is highly recommended to book your Burj Khalifa tour tickets in advance, especially during peak tourist seasons. This ensures availability and allows you to skip the queues by opting for timed entry slots. Online booking platforms and the official Burj Khalifa website offer convenient options for securing your tickets.
Q6: Can I combine multiple Dubai tours into a single itinerary?
Yes, it is possible to combine multiple Dubai tours into a single itinerary. Many tour operators offer package deals that allow you to experience different tours over the course of your stay. This gives you the flexibility to explore the diverse offerings of Dubai without missing out on any key experiences.
Q7: What is the best time of year to visit Dubai for these tours?
The best time to visit Dubai for these tours is during the winter months, from November to March. The weather is pleasantly mild, making outdoor activities more enjoyable. However, it's important to note that Dubai experiences high tourist traffic during this period, so it's advisable to book your tours and accommodations in advance.
Q8: Are the Dubai tours suitable for solo travelers?
Yes, the Dubai tours mentioned are suitable for solo travelers. Many tour operators offer group tours where you can join other travelers, providing an opportunity to meet new people and share the experience. Additionally, Dubai is a safe and welcoming destination for solo travelers, with plenty of attractions and activities to explore.
Q9: Can I bring my children on the Dubai tours?
Yes, children can participate in the Dubai tours. However, it's important to check the age restrictions and suitability of certain activities beforehand. Some tours may have specific age requirements or recommendations for certain activities like dune bashing or yacht charters. It's always a good idea to communicate your requirements and preferences to the tour operator when making the booking.
Q10: Are there vegetarian or vegan options available during the tours?
Yes, vegetarian and vegan options are available during the Dubai tours. Most tour operators and dining establishments in Dubai cater to a wide range of dietary preferences and restrictions. When booking your tour or dining experience, you can inform the provider about your dietary requirements, and they will make arrangements to accommodate your needs.
Remember to check with the specific tour operators for any special requests or concerns regarding dietary restrictions, accessibility, or any other requirements you may have to ensure a smooth and enjoyable experience during your Dubai tours.
Conclusion
Dubai's top 5 tours, featuring Desert Safari, Dubai City Tour, Dhow Cruise, Private Yacht Charter, and Burj Khalifa Tours, offer an array of remarkable experiences that showcase the city's cultural heritage, architectural marvels, and luxurious offerings. Whether you're seeking adventure, relaxation, or a taste of high life, Dubai has it all. So, plan your trip, immerse yourself in the vibrant energy of the city, and create memories that will last a lifetime.