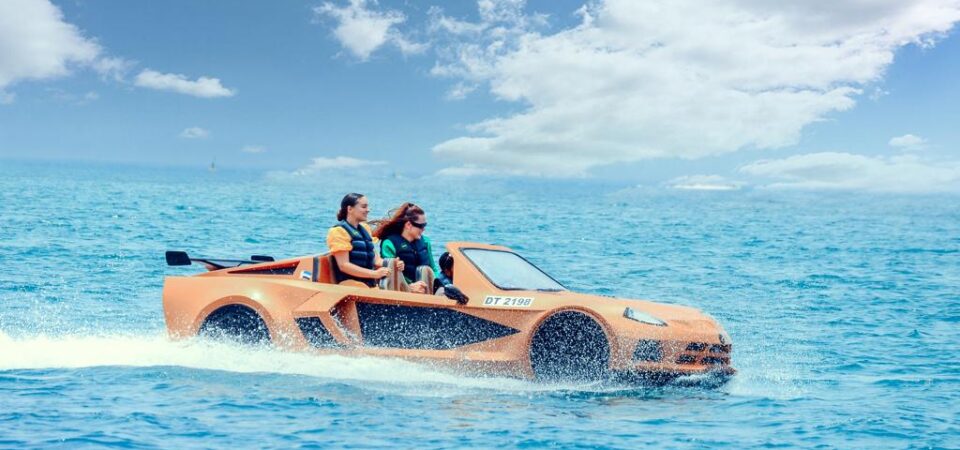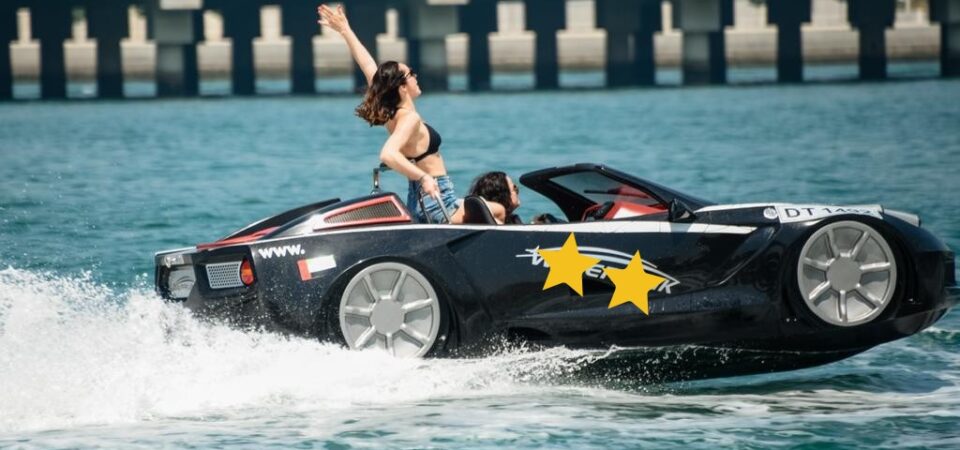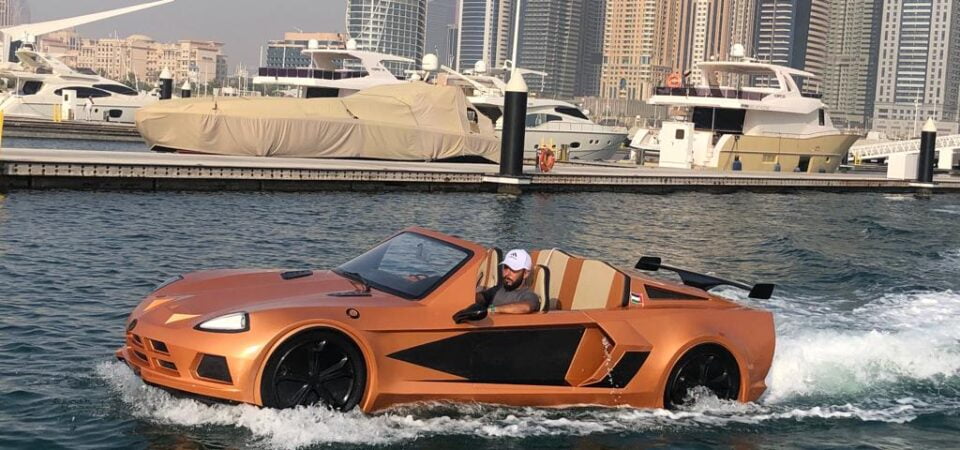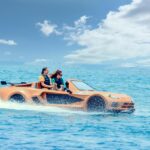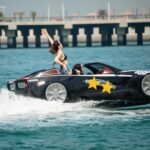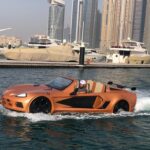 Description
Yacht Details
Booking Procedure
Reviews
Description
Take a risk! Make a statement! Do you want to drive a supercar replica on the water? It's now a possibility! With the Jetcar Dubai Experience, you can freely enjoy the sea. Good news for those who want to enjoy the pleasures of the sea while learning more about Dubai.
What's in it?
20 minutes or 60 minutes Jetcar experience based on booked duration
Take part in a one-of-a-kind water sport activities in Dubai.
Best sea thrill ride for thrill seekers
Maximum of three people per car (driver and passenger).
Briefing with qualified professionals prior to the actual activity
How Does an Idea Become a Reality?
Jet ski cars were created with the idea of providing real-time car driving experience on water. While their friends spend their day off at the beach with their families, a group of Egyptian friends have combined their passions to design and build an aquatic vehicle described as a jet car.
Mr Karim Amin, aged 29, and his friends created this technological entity, which they say looks like a car and drives like one, but has the thrust speed of a jet ski. It reportedly has a top speed of 70 kilometers per hour, so you'll never be bored or lonely with this new addition cruising alongside you! But hold on, there's more! This aquatic car features high-tech entertainment such as Bluetooth speakers and GPS tracking for safety on board.
What Makes a Water Jet Car an Exciting Experience?
It's thrilling to drive through incoming waves and across stormy seas. Going faster! If your speedboat has super-sized hydrofoils that can run on the waterline! It's even more exciting when you're driving a car across the sea, as opposed to driving overland. All of this is possible with a water jet car Dubai. We have exciting news for all water sports enthusiasts: anyone can drive their cars just like on land, but with more freedom because there is so much more to do out on the open sea than on roads!
Water Jet Car Dubai Specifications
This vehicle can be driven safely on water and has a top speed of 70kph. The internal mechanism is identical to that of a jet ski, and it performs similar tricks. The water jet car Dubai appears to be a regular car, complete with an 1800 cc engine, wind shield wiper, buttons for various functions, a small GPS screen, steering, gas pedal, and gear selector. Around the back is a large engine that aids in propulsion when on water, allowing these vehicles to perform similarly to cars when placed on tracks. This car behaves similarly to a jet ski, but you enjoy it as if it were a real car being driven on the water!
The following are the main characteristics of this jet ski car Dubai:
engine capacity of 1800 cc
Wiper for the windshield
GPS display
A steering wheel, a gas pedal, and a gear selector are included.
62-70 mph (54 knots)
How Do We Assist?
We brought a self-driving car and drove it across the water several times to thoroughly test it. We're actually going to make this completely autonomous vehicle available to consumers in Dubai, so you can jump in, crank it up, and enjoy the drive with your loved ones. Our corvette water car Dubai is built to float on top of sea water, making for an exciting driving experience because you never know where you'll end up. Aside from providing a fantastic car driving experience on water, we also provide trained crew so that you can drive the car efficiently even if you are a novice. Reserve now on our website to experience this wonderful water ride.
Yacht Details
Booking Procedure
Reviews
in yacht tours ticket mean hour.
Min 30 minutes, Depending on your desired package
Multiple timings available.
Starting from 330 USD, Varies according to your package and Jet Car model.